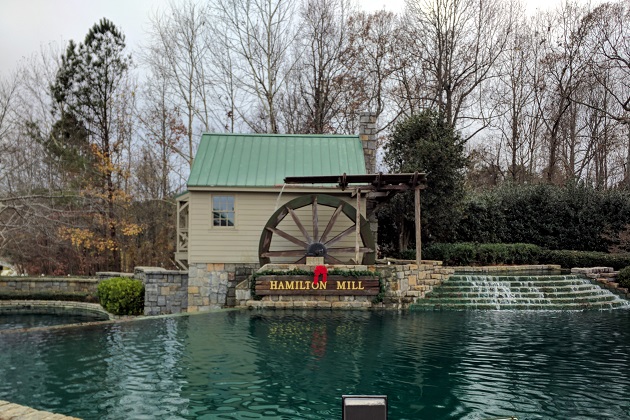 Entrance to Hamilton Mill near Dacula, Georgia

The community is a significant part of what makes a structure one's home. And no other community in Metro Atlanta offers the variety of resources that make a hometown better than Dacula in Northeast Gwinnett County, Georgia. This former cotton farming community once near the county's first courthouse and jail has come a long way since its incorporation in 1905, growing to over 5,000 mostly well-educated professionals who enjoy the comfortable quality of life offered there. While the fiscally responsible town doesn't have the grand city hall in the park like setting with all of the free concerts and movies that are so common among many other Metro Atlanta cities and neighborhoods, it is perfectly located along Georgia Highways 29 and 316 just minutes away from Buford, Lawrenceville and other cities that offer great attractions, other national dining and shopping destinations.
>What Dacula, GA does offer is a community of residential neighborhoods comprising of owner-occupied new and existing single detached properties on larger lots near the most modern conveniences of everyday life. They are served by either the Archer, Dacula or Mill Creek High School Clusters of the multi-award-winning Gwinnett County Public School System, all consistent top performers in academics, arts, sports and more. But some residents prefer Hebron Christian Academy for an alternative complete, private educational experience or Dacula Classical Academy as a home school choice, both available as SACS-accredited K-12 options. There are multiple city and county-owned, ADA-compliant parks in and around Dacula with equestrian facilities, golf courses, a community center, swimming pool, library, post office, a newer urgent care center and the latest concepts of nationally and regionally-known eateries and chain supermarkets. And GRTA Xpress Bus Lines conveniently connect it all to multiple points of interest within the Atlanta City Limits, around 37 miles away from the Hebron Baptist Church Park and Ride.

Dacula is a fine choice for those prefer the finest comforts of home just minutes away from the big city action. Please call (678) 775-2677 today to learn more about Alegre Farm, the popular local Memorial Day Parade, regional air travel from nearby Briscoe Field and more of what makes Dacula, Georgia a great place to live, work and play.
Find Your Metro Atlanta Home in Dacula, Georgia
See other Metro Atlanta Cities and Communities.